Thanks to TEConnecTIvity (TE), a global leader in the field of connectors and sensors, launched new easy-to-purchase options for high-voltage terminals and connectors, design engineers no longer need to worry about missing parts, difficulty in assembly, or difficulty in ordering quantities. The new hybrid and electric vehicle solution kit contains all the reliable components that TE has always provided for wiring harness assembly, but now it is available in an easy-to-order package.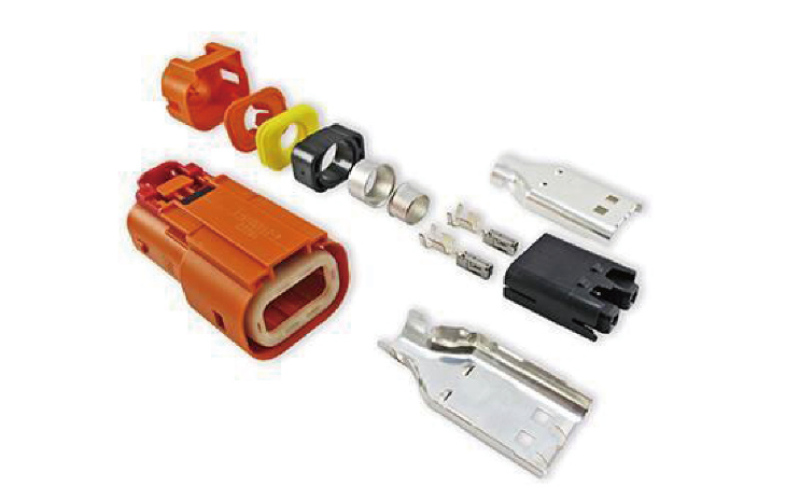 The kit is suitable for AMP+HVA280, AMP+HVA630, AMP+HVP800, AMP+HVP1100 and AMP+IPT solutions, and is also ideal for high-voltage, hybrid and electric vehicle applications.
Mike Brenner, TE product manager, said: "In order to help our customers and simplify ordering and assembly, we now provide kits for these high-voltage terminals and connectors. Hybrid and electric vehicle solution kits provide design engineers with a packaged package. TE has all reliable parts, so they don't have to worry about losing any parts or reaching the order quantity."
The AMP+HVA280 two-position or three-position low- and medium-current male and female connectors are finger-proof and safe to touch, and are designed to be flexible. It can provide various options for hybrid/electric vehicle equipment applications. This product series can be used with multi-core or independent shielded wires, and includes the industry's unique split design, thereby improving the efficiency of packaging and manufacturing. In addition, the safety of the system can be ensured through a two-stage lock. The connector system provides a variety of locking options, with an integrated internal HVIL high voltage interlock, which can achieve size optimization and flexible wiring.
AMP+HVA630 two-position, three-position, four-position and five-position low- and medium-current male and female connectors are safe to touch, designed to meet AK4.3.3, LV215-1 specifications and equipped with CPA (connector positioning assurance). AMP+ connectors and connectors can provide up to 40A current-carrying capacity under conditions of 140 degrees Celsius and 4-6mm2 multi-core wire diameter range, and can be used in many EV equipment applications. The shielded and sealed two-position connectors are designed to achieve the advanced performance of high-voltage car chargers. The five-position connector allows three-phase charging currents up to 32A to achieve the maximum charging capacity, and due to its lever control, the required insertion force is less than 70N. The integrated internal HVIL ensures that the external dimensions are optimized.
The anti-touch one, two or three high current male and female connectors provided in the AMP+HVP800 kit are designed to comply with AK4.3.3 and LV215-1 specifications. AMP+ high-current connectors and joints can provide up to 200A current-carrying capacity at 85 degrees Celsius (depending on the wire cross section), and have a sufficient temperature range and a wide range of wire diameters, which can be used in various EV applications. The integrated internal HVIL with multiple wiring options enables optimization of package size and ensures flexibility. The lever assist device simplifies assembly and reduces insertion force.
The AMP+HVP1100 one-bit high-current male and female connectors can prevent finger contact and are flexible in design. It can provide various options for hybrid/electric vehicle equipment applications. TEAMP+HVP1100 can provide up to 280A current-carrying capacity under the conditions of 85 degrees Celsius and 70mm2 individually shielded wires, and can be used in many high-voltage applications. The system provides an integrated internal HVIL to optimize the external dimensions.
Finally, TE's AMP+IPT shielded ring terminal allows the internal power terminal to be adjusted more conveniently and flexibly for various applications. IPT provides one-pole, two-pole or three-pole outer sheath. With accessories, it can provide 360-degree EMC shielding for the system. According to the needs of customers, the ring terminals can be screwed on cables of different lengths.
WIN-WIN electronics can offer customers many kinds of connectors all over the world. We accept connector customizations. Warmly welcome you contact us for more information. No matter what size or shape of the connector, we can help you cutomize it. Visit our website and leave us messages, we will reply you as soon we read it.